Assessment at Philip Southcote is seen as a vital component in support of high-quality teaching and learning. It must meet a broad range of needs covering Key Stage 3, 4 and 5. At Philip Southcote assessment strategies also need to cover a broad spectrum from P levels through to GCSE's.
We use a system called Solar to assess pupil progress, set targets, generate reports and to track their progress. We have recently spent time refining and developing our assessment criteria so that it accurately assesses the progress of our pupils. We assess each pupil's skill development through the delivery of purposeful subject knowledge within each subject.

Our "Southcote Steps" uses a continuation on one scale that runs from Southcote Step SS1 to SS22 to measure small steps of progress from Pre-Entry Level through to GCSE level. Each subject consists of between 3 and 6 strands that will sit within each "Southcote Step" and form the assessment criteria.
The number of strands will vary between 3-6 depending on the subject. The criteria for each strand increase in difficulty as the pupils move up from SS1 - SS22. Pupils may have spikey profiles within a subject and make different rates of progress across the strands. Solar will combine the overall progress of the strands to give an overall SS Step and percentage score. We use this when we first baseline the pupils to set an initial projection flight path for each individual pupil at the school.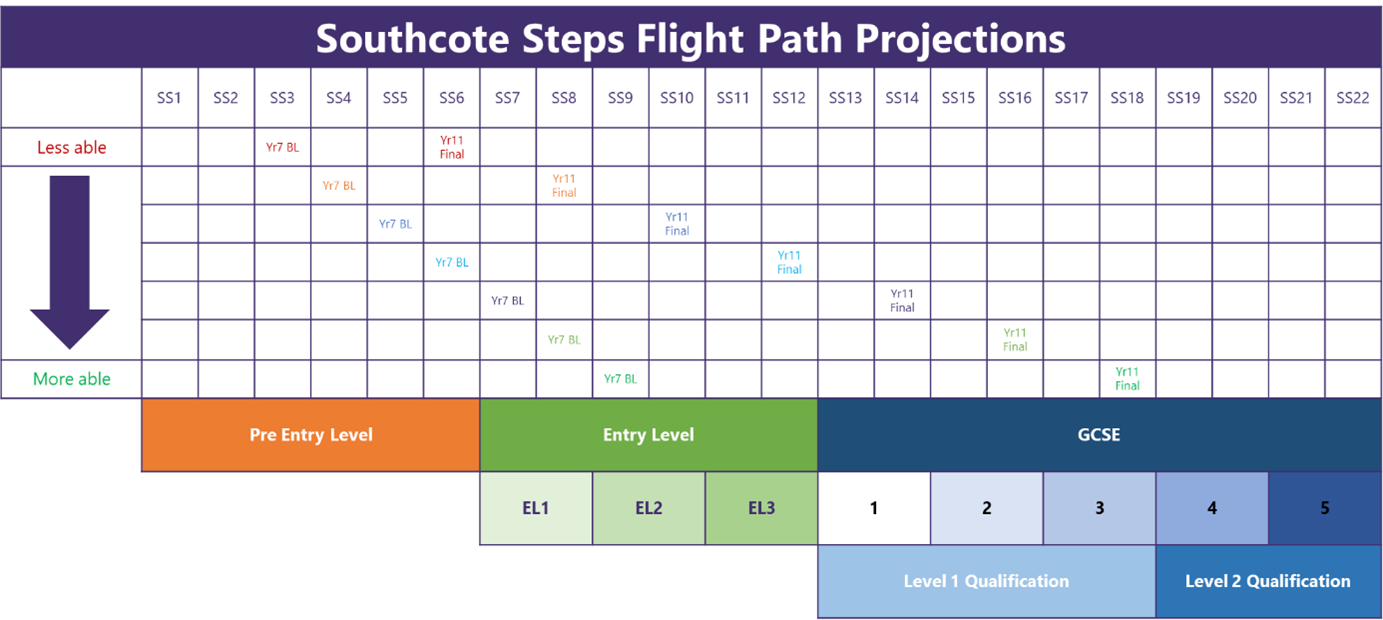 Our 4-star system of Fully Supported, Supported, Independence and Wow enables us to ensure mastery and depth at each step. Pupils move up a step with a strand once they have achieved 3 stars, enabling the pupils to make progress while accurately assessing each pupils needs.
For example, if a pupil is working at SS 10 + 1 star for Values as the strands are progressive the pupils should at least have 3 stars completed in every step SS 1 - 9 and 1 star filled in at SS10 for Values. Solar will combine the overall progress of the strands to give an overall SS Step and percentage score.
Each set of criteria will have 4 stars
1 Star - Fully Supported
2 Star - Partially Supported
3 Star - Independence
4 Star - Wow (Transferrable skills/Application)
SOLAR software allows us to record all our assessment in one place and has the flexibility for us to shape our assessment system to align more closely with our teaching. It also enables us to include our target setting and undertake data analysis.