Outcomes
2021-2022 Results Overview
This Summer results have been achieved in Year 10, year 11 and year 14. Year 10 accreditations have been limited to Maths, English and Sports Leaders.
Our main Cohort in Year 11 consists of 20 pupils, 9 girls and 11 boys. Within this year group 11 pupils (55%) receive pupil premium funding
Pupils in Key Stage 4 completed courses in:
Maths, English, Science / Biology, ICT, Humanities, Food, Art, Sports Leaders, DofE, Outdoor Learning (NOLA). This summer year 11 pupils achieved a total of 202 qualifications, 45 (15%) of which were GCSE qualifications, across 4 subject areas. This is comparable with last years data of 13% over 5 subject areas.
Average Number of Quals
Average Number of Subjects
% Subjects at least ELP
% Subjects ELP+
% Pupils at least ELP in M&E
Number of GCSEs
2021-2022
(20 pupils)
10
8
96%
31%
80%

30
English Outcomes Over TimeMaths Outcomes Over TimeScience Outcomes Over Time
6th Form students completed courses in:
Maths, English, PSE, Personal and Social Development, Independent Living, Undertaking Enterprise Project, Work based Placement, Making Financial Decisions, Healthy Living, College Induction, Personal Wellbeing, Economic and Financial Capability, Introductory Award in Life and Living Skills and Skills towards Enabling Progression.
The 6th Form had 9 leavers in Year 14 gaining 50 qualifications (average 5.5) which is a small increase from and an average of 5 qualifications in 2021. 2 Leavers gained GCSE in English and 1 in Maths.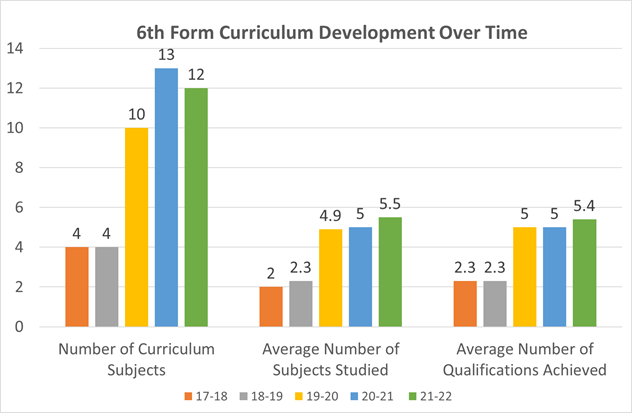 Please click here to access the Department for Education's performance tables for Philip Southcote School.