Latest News
Pop Up Circus
Posted on: 11/03/2022
Please join in the fun when the PFA hosts the school's first ever Popup Circus!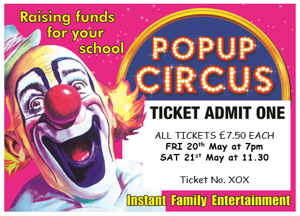 Please click here for a short video of the Pop Up Circus
WHEN ARE THE SHOWS? Friday 20th May at 7pm and Saturday 21st May at 11.30 (in addition the pupils at the school will be invited to attend a free workshop during school hours on the Friday!)
WHERE IS THE CIRCUS BEING HELD? The field in the grounds of Philip Southcote school, Addlestone Moor, KT15 2QH
HOW MUCH ARE TICKETS? £7.50 (or £8.40 if purchased online- this will be the main purchase option available for the wider public to cover Eventbrite's costs)
WHY IS THE CIRCUS COMING? The Southcote PFA is always looking for new & exciting ways of raising money towards whatever it may be that the school needs for the pupils.
HOW LONG IS THE CIRCUS? Each show is 45 minutes with no interval
HOW LARGE IS THE CIRCUS? There is a professional company of 3 performers. The big top seats up to 300 people in a mixture of chairs (for adults) and mats (for children).
WHAT TYPE OF AUDIENCE IS THE CIRCUS AIMED AT? The show is suitable for family audiences from babies to grandparents.
DO I HAVE TO PAY FOR MY BABY/TODDLER? Tickets are payable on anyone of 2 years of age upwards. Babies are free as long as they sit on parents' laps. Push chairs are not permitted into the big top due to fire regulations.
WHO IS POPUP CIRCUS? Popup Circus is a professional circus company touring UK schools. The director has been involved in education shows for over 2 decades and has created Popup Circus to fulfil the needs of schools and parents in today's modern society.
WHAT'S IN THE SHOW? It is a professional, non-animal Circus show, with an international cast of acrobats, jugglers, aerialists and clowns.
ARE REFRESHMENTS ETC AVAILABLE? Yes - on the day there will be a selection of stalls, food and activities. Please note this is a cash only event.
Please click here for the Ticket Booking Form
Please click here for Programme Competition for Pupils
Please click here for more information regarding the Pop Up Circus